Nihari Recipe originated around the end of the eighteenth century in Nawab's Kitchen. (Nawabs were semi-autonomous rulers of princely states of South Asia in Mughal times and also after that period.) So we having some royal Nawabi food. Nihari comes from the Urdu word Nihar, which means morning. In those times Nawabs would have Nihari in breakfast. As in many cities Like In Lahore still, people have nihari in Breakfast. There is no particular word for nihari in English but it is basically a smooth flour-based spicy beef stew.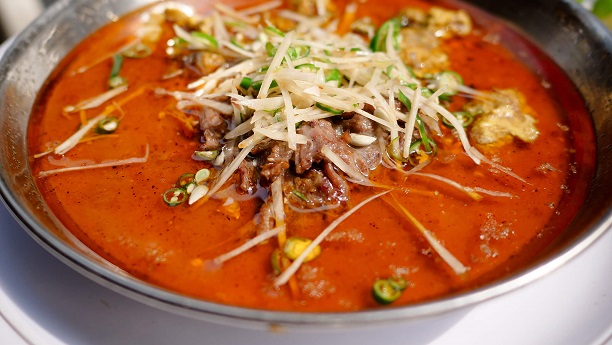 INGREDIENTS
Mutton – 1 kg
All purpose flour – 2 tablespoons dissolved in 1/4 cup of water
Turmeric powder – 1/2 teaspoon
Cinnamon stick – 1
Bay leaves – 2
Cardamom – 2
Cloves – 8
Garam masala – 2 tablespoons
Ginger garlic paste – 2 tablespoons
Chilli powder- 1 tsp
Coriander powder – 1 tsp
Yogurt – 3 tablespoons
Ghee or cooking oil – 1/2 cup
Nutmeg – Few pinches
Spice masala:
Make it as a powder
Fennel seeds – 2 tablespoons
1/2 teaspoon whole black peppercorn
1/2 teaspoon cumin seed
Ingredients For Garnishing:
Onion fried to brown
2 Green chillies chopped
2 Ginger strips sliced
3 tablespoons coriander leaves chopped
COOKING METHOD
Clean the mutton and cut into medium pieces.
Heat oil in a pan and add bay leaves, cloves, cinnamon stick and ginger garlic paste.
Add the mutton and fry for 2 to 3 minutes.
Now add red chili powder, coriander powder, turmeric powder, yogurt, garam masala and fry until the oil separates.
Add the nutmeg, cardamom, spice masala and 3 cups of water and cook on low heat for 3 to 4 hours.
Finally, add the flour but before mixing the flour preheat it on fry pan until it turn it light brown and then mixed it to in water and put into Nihaari and cook for about 10 minutes.
Garnish with coriander leaves, ginger, onions and green chilies.
You can serve mutton nihari with chappati naan or rice.