The audiences of Pakistani TV series are loud enough about the format of the content they like and the questions they don't like. As in this year, there have been many dramatic events. It's really good, because of the interesting story and good characters, she came here with really nothing to offer drama. Many elements contributed to the creation of any worst drama, comparable to weak plots and paths, terrible characters, etc. In these months, Pakistani drama fans have experienced a variety of worse dramas, all of which suit their tastes. They have contributed to their development. give up. Some plays ended up as a list of laughter, while others did not provide substantive material regardless of the audience.
Here are those Dramas that have poorly scripted
JALAN
Aside from negative reviews with its unhealthy history, Jalan was the worst content ever made and here is an overview of some of the things that have been featured on Jalan that is violent and toxic behavior and problematic personalities who don't have the concept. Law and sibling rivalry to the point of madness A scandalous love story between two sisters and a brother-in-law who forgets the importance of mental health. A husband who blames his wife for not raising their daughters well. Means such a meaningless script ever seen.
Kahin Deep Jalay
Drama Kahin Deep Jalay have a one of the worst scripted Drama it's better for the writer if he named the drama kahi dil jalaye as a result of their followers had been totally disillusioned and their blood was boiled! This drama had your typical 'sazishi bhabhi' whose interest was making mountain out of a molehill. It was attention-grabbing to notice that the author tried to make Shameela the final word villain however her negativity was overpowered by the stupidity of the supposed 'masoom' characters who selected to not say something to assist their state of affairs. Even pretend like that masoom character is blind and not able to see the cleverness of Shameela. This drama was fairly irritating by itself however took it to on a different degree of stupidness.
Jhooti
Jhooti was also heavily criticized when lead actress Nirma lied about being beaten by her husband for divorce, which viewers found troubling because the author made fun of something as serious as domestic violence. it was just as ridiculous as the basic plot and script. This ending was as typical and boring as the drama itself. This drama was as superficial, pointless and boring as its title
Thora sa Haq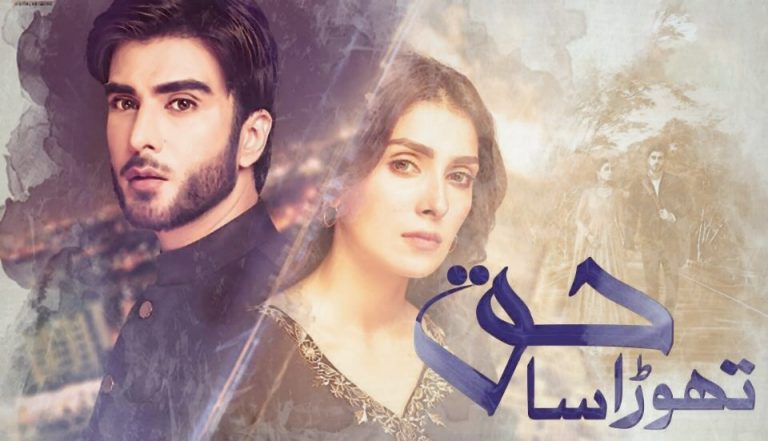 If stars like Ayeza Khan and Imran Abbas can't save a badly written script, then something is very wrong, and Thora Sa Haq did it. Oh my god, the incessant tears, the clichéd story, doosri biwi, I am terribly lost in the middle. To be honest Imran's worst performance and Ayeza's worst choice before Meherposh.
Mein Na Janoo
Viewers had wondered why Sanam Jung had chosen to return with such a pathetic drama. Sanam's over-dramatic efficiency didn't just make viewers question her performing skills. Even Affan Waheed's efficiency was so disappointing in some scenes that emotional scenes were seen Zahid Ahmed even apologized for being part of the drama and accepted that he hadn't made the right alternative. Many of the viewers gave up on this drama after a few weeks and those who got it right up to the top bought to see what was essentially the most pathetic ending to a drama series in the year. Me Na Janoo was the worst when it came to script, execution, and acting. It was quite a preparatory disaster from the main episode to the end That was a drama! It didn't even have enough substance to cross 15 episodes, but it must have been on the air for 37 weeks.
Which of these dramas have you watched and found nothing impressive? Share your views.